Berlin Wall
Reviews
Wednesday 25th, April 2012
Read all the reviews about the Berlin Wall Project!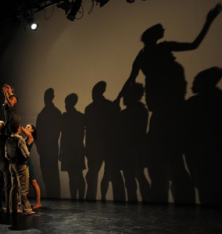 Reviews are In
Tuesday 24th, April 2012
NYTheatre Review by Staviana Stanescu

Backstage Review by Lisa Jo Sagolla

Oberon's Grove Blog review by Philip Gardner

Infinitybody Blog Review Eva Yaa Asantewaa
Words on the Wall
Sunday 22nd, April 2012
Please check out our first Words on the Wall discussion series held each last Friday
Press Release
Friday 20th, April 2012
Check out the full press release!
Wallstories at the Fringe NYC
Thursday 11th, August 2011
It's been 50 years since the Berlin Wall was built and we are in the middle of rehearsing Wallstories for the Fringe NYC festival here in New York. It's interesting to reflect back on the Wall again this year but this time one the 50 years since it was build. Angela Merkel said in her speech to the President that the first political event from her childhood, she remembers distinctly is the building of the Berlin Wall 50 years ago. She was seven years old at the time. Seeing grown-ups, even her parents, so stunned that they broke out in tears, shook her to the core.